No history of a community can be complete without some indication of those industries which give employment to its citizens. It is from manufacturing establishments that wealth is brought to any commercial centre, and they are, therefore, of great importance to material development. Next to Stratford, Listowel is the largest manufacturing town in this county Most prominent of these establishments is that of the Morris, Field, Rogers Company, Limited. This company was organized in 1891 to manufacture Morris pianos, and is most creditable to the enterprise of Listowel. A great four-storey building of white brick has been erected, equipped with modern machinery, and of impressive exterior appearance. From 80 to 100 men are employed in this factory, many of whom supply skilled labour in order to produce a high artistic effect on their goods. These instruments are sent to South Africa, Britain. France, Germany, Spain, and to every section of our own country. Under the management of President J W. Scott and Vice-president Lieut.-Col. D. D. Campbell, with J. C. McDowell as executive officer, this enterprise has been a success.
The Listowel Furniture Company was organized in 1900. A fine brick building, which is being largely extended, has been erected to accommodate this institution. The principal promoters of this factory were Messrs. Kay, Wahl, McDuff, Fleming, and Andrew Forsch, who is president. From 50 to 75 hands are employed in this industry, and goods sent to every corner of the world, almost. Bedroom suites, sideboards, bookcases, chiffoniers, all of high-class manufacture, are special lines. A considerable amount of skilled labour is also employed in producing these goods, which commands liberal compensation.
Perhaps the oldest establishment in Listowel next to Mr. Hay's mills is a tannery, originated by Messrs. Towner and John Campbell in 1867. This industry in 1891 became the property of the Breithaupt Leather Company, and is now managed by Mr. Charles Anderson. In this establishment are employed from 20 to 30 hands, where the weekly output of goods is large and still increasing.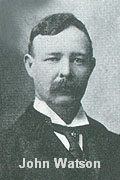 An infant establishment in this progressive town is the Bent Chair Factory, which began operations in 1902. A splendid building has also been erected to accommodate this business, now managed by a board of directors - John Watson, president. It is gratifying to know that a constantly increasing demand for goods of this class in our new territories has made this factory a success, and given employment to from 40 to 50 hands.
In 1882 Bamford Bros. opened an establishment as contractors and builders. Planing mills were erected, equipped with modern machinery. This business has expanded as other manufactories increased, and employs now from 12 to 15 men.
In the manufacture of agricultural implements Gilles & Martin employ over 50 men. This is comparatively an old-established business, re-organized about 1894 under its present management, having now a large trade.
Besides there large manufacturing establishments, where many hands find remunerative employment, there is also a woollen mill - perhaps the earliest manufacturing business in Listowel - now, and for over a quarter of a century, operated and owned by B. F. Brook. An old establishment is that owned by Horne & Calder as a planing mill for manufacturing building material, employing a number of men. These, with Meyers & Co.'s large flouring mills, managed by Josephus Meyers; the marble works of Robert T. Kemp, and. the brewery of John Watson, constitute the principal industries in Listowel.
In 1896 Mr. Edward Sergeant opened a forwarding business for exporting dairy products and eggs. This is of great importance to the agricultural community, as affording an outlet for their surplus goods of this kind at remunerative prices. The business is now of large volume, and increasing, an indication of its appreciation by those it was designed to serve.
In 1902 Listowel's assessment roll gave a population of 2,661, and a total assessed value of $830,850, or an increase in value over the preceding year of $34,450.