During 1828 the Canada Co. were completing arrangements in London for opening up that great wilderness in Upper Canada where men in future years would found a new home for themselves. In January of that year was born in Broughty Ferry, a suburb of Dundee, Scotland, one who was destined to play an important part in that yet unknown land.

David Davidson Hay was the eldest son of Robert Hay and descended from an Inverness-shire family, his mother being a native of Forfarshire. He was educated at the parochial schools, chiefly in the English branches, a dash of mathematics being thrown in, and well ballasted with the shorter catechism. In 1845 he came to Montreal, remaining for some time, engaged in mercantile pursuits. Removing to Upper Canada, he became an employee of Senator Simpson, at Bowmanville, where he remained for a short time. During 1851 he went to Simcoe County, and entered into business at Cherry Creek and Lefroy, being quite successful in his operations.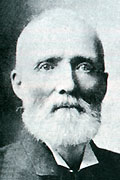 David Davidson Hay

It was not till 1855, however, that he reached the crucial period of his life. While on a visit to relatives in Wallace he purchased three acres of land as a saw mill site where Listowel now stands. During 1856, therefore, along with his father and other members of the family, he removed to this county, and erected a saw and grist mill. Although surrounded by a fertile country, it was yet but sparsely settled, and a paucity of business rendered this venture for a time not very successful. Pioneer commercial life was attended with as great difficulties as those inseparable to clearing a farm, although, perhaps, not quite so laborious. Listowel, at this period, had only one leading road, extending along the townsite of Wallace and Elma towards Berlin, a distance of 35 miles. To make a round trip over this highway required one week. In 1856 when Mr. Hay moved his family from Glenallen, a distance of 15 miles, to Listowel, two days were spent struggling over crossways and through mud holes. Postal facilities were semi-weekly, and an old horse possessed by the mail carrier was impressed into moving the "flittin'." As the procession toiled on through holes and over crossways, it came to a sudden halt in the centre of a mud trap so great and of such vast depth as to defy human calculations. The old equine was unable to proceed, and from his soft resting place, still anchored to the of "fittin'," looked to the shore beseechingly for aid. The doughty proprietor, seeing the dangerous situation of his goods, was forced to strip off his lower garments, in defiance of his innate modesty, plunge into the mud bath, extricate the old horse's foot from an elm root, where it had become fast, and so allow the "flittin' " to move on. Episodes of this kind were of frequent occurrence, and Mr. Hay says - "The machinery for our mill was hauled in from Berlin, the boiler being one week in making 35 miles, with a squad of men and teams, costing $100, and, although we had several upsets no one was badly hurt ." Mr. Hay subsequently assumed management of the grist mall, and under his energetic manipulation the gloomy prospects at its inception soon eventuated in success. This enabled him not only to extend his business in other lines, but to increase the capacity of his mill by adding new and improved machinery, it becoming an important factor in promoting prosperity in this new hamlet.